Why You Should Visit Mammoth Lakes on a Weekday
There's never a bad time to visit Mammoth Lakes, but the best time may be during the week!
Mammoth Lakes is the ultimate mountain getaway thanks to its beautiful scenery, incredible community, and of course, the ski mountain at the center of it all, Mammoth Mountain. All those attractions bring people from all over the world though, and that can mean crowded roads, long lift lines, and stress that no one wants on their vacation. To help you avoid all of that, the Mammoth Bound team has put together a guide to visiting Mammoth Lakes mid-week.
Read all about it below, and then make it a reality by planning it with Mammoth Bound!
Open Hot Springs
The geography of Mammoth Lakes has more to offer than just steep slopes and deep snow.
There are natural hot springs all around Mammoth Lakes due to the geological activity happening underneath Mammoth Mountain, and they're the perfect way to relax and soak in the beauty of the area. However, during the weekend they can become crowded due to the amount of people who want to do just that. 
The weekdays are another story though, so take advantage! Check out this guide to visiting the hot springs surrounding Mammoth Lakes and then make it happen by booking the best lodging and rentals in Mammoth Lakes through Mammoth Bound! 
WEEKEND VS WEEKDAY
Save Money on Mid-Week Deals & Specials
Even a ski town as popular as Mammoth Lakes wants to attract people during the week, so businesses all around town offer deals to do just that.
For example, our friends at ASO Mammoth offer great weekday rental discounts for singles and families. They're not the only ones though. You'll find weekday discounts on lodging, food, and other mountain experiences all over Mammoth Lakes, so if you're able to get away for the week then take advantage! Check out more mid-week deals at VisitMammoth.com
Short Lift Lines, Empty Trails
It doesn't matter the season or the weather, people are visiting Mammoth Lakes and going outside.
During the winter, that means enjoying the snow in the beautiful Eastern Sierra Mountains. Unless you can backcountry ski or snowboard though, that means visiting Mammoth Mountain, and there's never a better time to do so than during the week!
Mammoth Mountain's size, snow, and terrain attract people from all over the world. All those people can mean long lift lines on weekends and holidays though. During the week, there's much less chance you hit any lift lines, so if you're in Mammoth Lakes on a weekday then you owe it to yourself to ski and snowboard!
Take advantage of the short lift lines by riding your favorite areas as well as those that you wouldn't usually ride due to long lines. Or, if it's summer or fall then hit the most popular hiking trails and lakes in the area and enjoy the wilderness in solitude!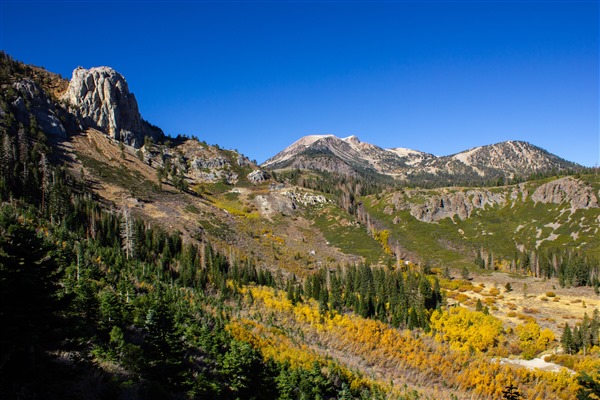 Less Traffic and More Room to Roam
Even just driving to Mammoth Lakes is a beautiful adventure thanks to the scenic mountain views you'll pass along the way, and during the weekdays you'll have mostly empty roads. 
Don't pass up the perfect conditions for a drive through the mountains, hit the road! If it's summer or fall, take advantage of the empty roads by driving through the beautiful Tioga Pass that leads from Mammoth Lakes to Yosemite National Park.  Or, you can drive south down 395 towards Bishop. Driving north towards Mono Lake is also beautiful, but you don't even have to leave Mammoth Lakes to enjoy empty roads since the Lakes Basin is an easy drive in Mammoth Lakes!
Weekday Warrior Guide – Why You Should Visit Mammoth During the Week