Great Gifts for Skiers and Snowboarders
If you've skied or snowboarded before, then you know that one of the best parts of both sports is the freedom to ride the way you want.
While this freedom makes skiing and snowboarding incredibly fun, it also makes buying gifts for skiers and snowboarders near impossible since each person's riding style, needs, and gear are unique to them. You may not be able to buy the skier or snowboarder in your life the perfect boot or set of skis, but that doesn't mean you can't give them gifts that will make their time on the snow unforgettable.
To show you what we mean, the Mammoth Bound team has listed the best unique gifts for skiers and snowboarders below. Check them out, and then plan a trip to Mammoth Lakes with your favorite skier or snowboarder with Mammoth Bound!
1. Framed Trail Maps of their Favorite Mountains
When the dog days of summer roll around and winter seems far away, a framed trail map of your favorite mountain is the perfect way to relive your fondest memories on the snow.
Give skiers and snowboarders the gift of nostalgia by framing a high-quality print of their favorite mountain and you'll be sure to see your gift on the wall the next time you visit their home. 
If you can't decide on a single trail map, then you can also give them the gift of dozens of trail maps created by the best trail map artist in the game.
2. An Air BnB near a Bucket List Mountain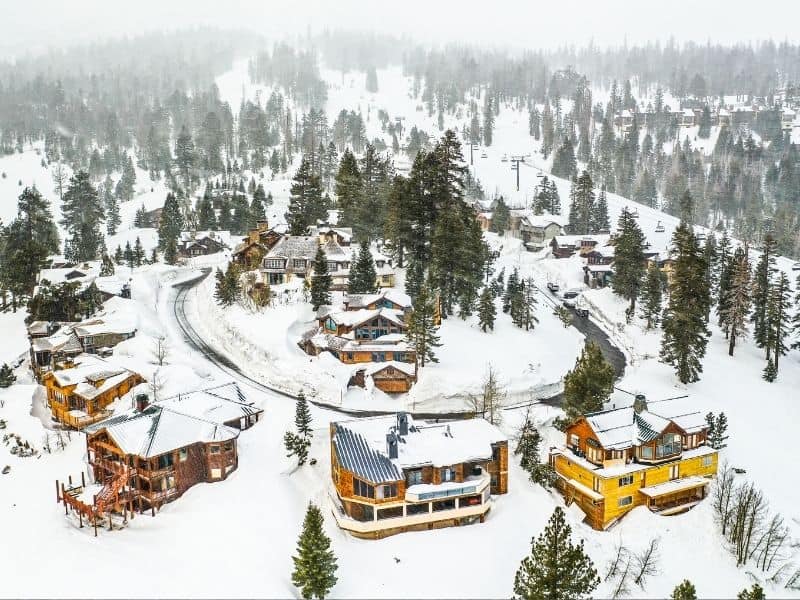 Skiers and snowboarders rarely need an excuse to head towards the mountains, but booking them a stay at a beautiful Air BnB or other lodging near an incredible ski mountain is a surefire way to get them out the door.
Scheduling a trip can be difficult, so you may have to opt for a gift card that gives them the ability to choose the perfect time and place for their stay, but if you know exactly when your favorite skier or snowboarder is open for travel then you can go ahead and book them an awesome stay near the snow!
Check out this awesome condo just steps from the mountain! 
3. Clothes From Their Favorite Ski Town
When you love a place and have great memories there, you want to represent that place and those good times, what better way to do this than with awesome clothes?  Cozy and cool clothes that not only remind them of good times but also keep them warm and happy – who knows, it might become their favorite thing to wear. 
Check out our store here and also on Teespring for more cool Mammoth Bound threads!
4. Merino Wool Base Layers
Long underwear and other base layers aren't the most exciting pieces of gear for skiers and snowboarders, but they are one of the most important.
You can't have skiing or snowboarding without cold air, but a good base layer like a smart wool shirt or merino wool set of long underwear will make sure the cold air doesn't stop a rider from enjoying the snow. 
5. Wall Mounts for Skis and Snowboards
Skis and snowboards are the most prized piece of gear a skier or snowboarder owns, so help them show it off with a wall mount!
Besides clearing up room to store other gear, wall mounts allow skiers and snowboarders to appreciate their favorite skis and snowboards even when they're far away from the snow!
6. Coffee and Beer From their Favorite Ski Town
.   
Skiing and snowboarding means being active, so you can bet that whenever skiers and snowboarders aren't on the snow they're either getting ready for a day on the mountain with a cup of coffee or winding down with a beer.
Not everyone can be near the mountains all the time though, so remind skiers and snowboarders of their favorite mountain and the community that surrounds it with a cup of coffee or beer from a coffee house or brewery near it. The flavors of the area that come through the coffee or beer will instantly remind skiers and snowboarders of their favorite days there, and inspire them to get back on the snow as soon as possible!